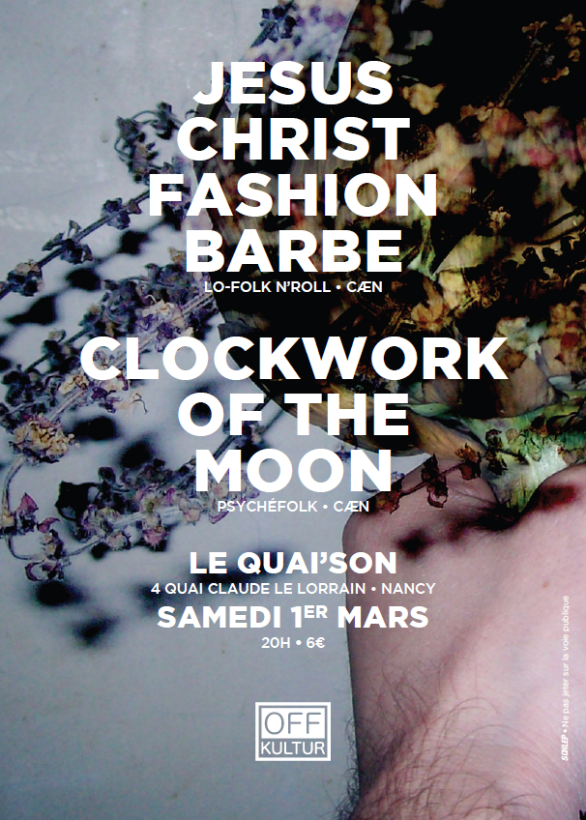 /// JESUS CHRIST FASHION BARBE ///
Né fin 2009 sur les cendres d'un autre projet, Jesus Christ Fashion Barbe a rapidement éprouvé le besoin d'un retour aux sources aux lignes épurées et frontales. En quelques mois le groupe s'est fait une place chez les Tontons Tourneurs. Et, après un premier EP au titre éponyme sorti à la fin de l'année 2011 et un passage prometteur aux Transmusicales de Rennes, les concerts se sont enchaînés : Printemps de Bourges, Eurockéennes de Belfort, Vieilles Charrues, Festival de Musique Emergente au Québec, Festival des Inrockuptibles à Paris… La barre des cent concerts passée, Jesus Christ Fashion Barbe a éprouvé le besoin d'explorer de nouveaux horizons artistiques et d'élargir son spectre sonore. Le groupe a ainsi confié la réalisation de son prochain Ep à Nicolas Brusq (kIM NOVAk) et intégré un quatrième membre à la guitare. Enregistrés chez eux en Normandie (Studio Télémaque), les titres se font plus riches et harmonieux tout en gardant l'urgence et l'efficacité des débuts. Premier extrait de cette nouvelle proposition, l'EP « Windows are cameleons », sortira en digital en avril. Il sera accompagné d'un clip le 05 mars.
/// THE CLOCKWORK OF THE MOON ///
Clockwork of the Moon a pris ses racines sur le littoral normand il y a quelques années déjà. Loin de renier son appartenance à l'émergente scène caennaise, le groupe s'en émancipe et défend une folk bucolique aux harmonies vocales et aux mélodies chantonnantes, sans pour autant délaisser ses premiers émois psychédéliques.
Le quintet récemment remodelé, les guitares et le chant se font plus acérés pour servir des arrangements sophistiqués, laissant naviguer les compositions entre un songwriting à l'écriture fine et des déferlantes sonores intenses. Après un EP sorti en décembre dernier, suivi d'un passage remarqué aux Transmusicales de Rennes, Clockwork of the Moon s'est vu intégré aux programmations du Sound City Festival de Liverpool et des Francofolies l'été dernier.