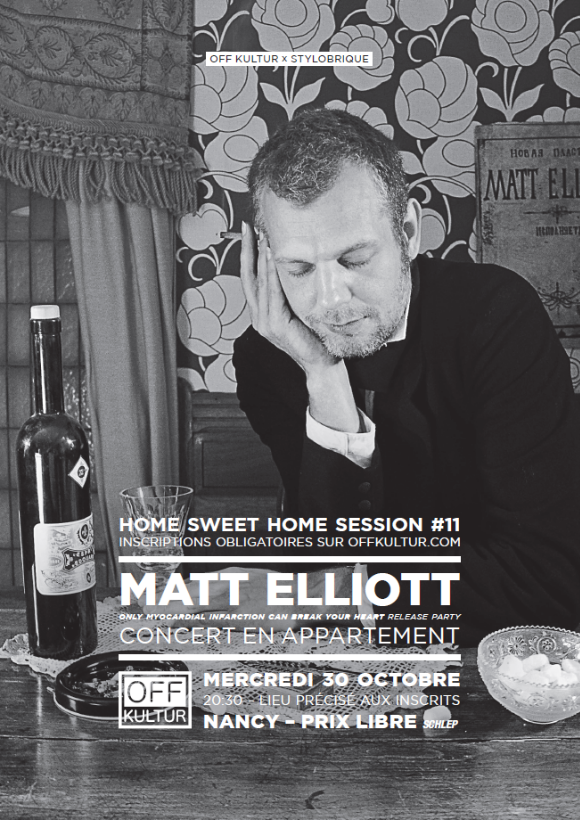 "Only Myocardial Infarction Can Break Your Heart"
RELEASE PARTY
Dix ans se sont écoulés depuis que Matt a décidé d'écrire sous son propre nom, abandonnant alors provisoirement le pseudo de The Third Eye Foundation sous lequel il a fait les beaux jours de la scène drum&bass anglaise. Dix ans déjà, durant lesquels Matt n'a cessé de développer son univers, d'expérimenter, d'évoluer, chaque album représentant un étape supplémentaire vers la grâce et l'émotion pure. En 5 albums, de l'inaugural The Mess We Made, au minimaliste The Broken Man en passant par l'imposante trilogie Songs, Matt a prouvé qu'il possédait une personnalité extrêmement forte, une sensibilité exacerbée et une capacité à transmettre le frisson, le vrai, celui qui bouleverse définitivement l'âme de l'auditeur.
Nous avions donc laissé Matt avec The Broken Man, un album à fleur de peau, dépouillé et peut-être son disque le plus sombre à ce jour. Only Myocardial Infarction Can Break Your Heart, son nouvel album, annonce pourtant un optimisme jusqu'alors insoupçonné chez le musicien. Un nouvel élan, peut-être même une forme d'espoir retrouvé. Quoi que cela puisse être, ce nouvel album introduit une dimension inédite dans la musique de Matt Elliott, sans jamais en remettre en cause les fondements.