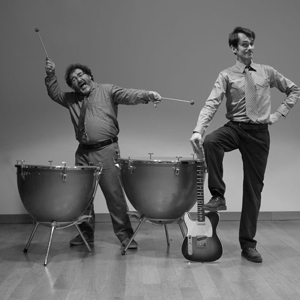 Deja Mu est le projet de Philippe Bellet, un artiste ayant déjà rôdé aux quatre coins de la sphère musicale. Ce multi instrumentiste issu du chant lyrique est accompagné par Ludovic à la batterie. Le duo crée des chansons entre rockabilly, musique jazz, latine ou symphonique, et une pop fantaisiste et burlesque. Leur premier album, "The Prime of a still life" est sorti en 2012, mais c'est en live qu'il ne faut surtout pas manquer leur univers totalement loufoque.
Site officiel / Facebook / Bandcamp
---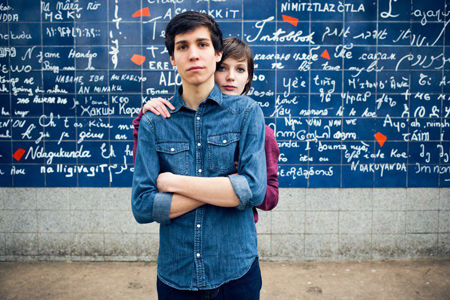 Vickie Chérie et Leo Bear Creek (également batteur de Coming Soon) se sont rencontrés au lycée, et forment depuis le duo de pop électronique The Pirouettes. Leur histoire est celle d'un jeu de séduction sans cesse renouvelé, de deux voix qui se croisent, se toisent, s'embrassent et viennent nous le raconter avec un naturel irrésistible et une redoutable efficacité mélodique. C'est aussi la réalisation d'un fantasme partagé par deux enfants des nineties : celui des années 80, des synthétiseurs qui virevoltent et des night clubs qui brillent comme des palaces. Nuits de la Pleine Lune, boules à facettes et lendemains de fêtes, des amours naissantes et des mots en français pour le dire : les chansons des Pirouettes s'habillent d'une légèreté adolescente, mais la spontanéité et la candeur de l'écriture n'ont d'égales que sa précision et sa profondeur. A la fois too cool for school et irréductiblement romantiques, les Pirouettes, en célébrant un âge d'or de la musique française, inventent avant tout leurs propres codes pour construire le futur : partout où elle s'est faite entendre, leur voix s'est déjà affirmée comme une véritable promesse.
Site officiel / Facebook / Soundcloud